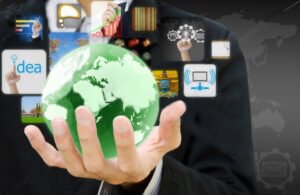 I have a vision and dream of creating an environmentally sustainable world, socially just and spiritually fulfilling human presence on this planet through entrepreneurial leadership. I see an awakening or shift in consciousness about this, a reconnection with our deeper purpose. It is time to awaken to the possibilities rather than be caught in old patterns of conditioning. We are seeing that our materialistic lifestyle is unsustainable with the unprecedented depletion of species, global warming, and global economic instability.
We have the opportunity this year to create a sustainable world and I believe it is imperative to join together to do this. One of the fastest ways to accomplish this is through developing leaders. One of the fastest ways to develop leaders is through entrepreneurship. Entrepreneurs step into their power, and with persistence and determination, create businesses that result in the kind of life they desire. They are risk takers and identify and service unmet needs, creating value through solutions. They initiate change or take advantage of change, value self-reliance, strive for excellence, and are highly optimistic and future driven. They see problems as opportunities and then creatively identify the solutions to those problems.
I love this quote, "The question of reaching sustainability is not about if we will have enough energy, food, or other resources…The question is: Will there be enough leaders in time?"  Dr. Karl-Henrik Robert, Founder, The Natural Step.
My mission is to empower, enrich and improve the lives of entrepreneurs by showing them a non-competitive way to earn income, promote leadership and be part of creating a healing global shift of social change and responsibility.
It's the entrepreneurial energy, creativity and motivation that triggers change in the world. Entrepreneurs can act as spark plugs activating and stimulating economic activity. The most dynamic societies in the world are the ones that have the most entrepreneurs.
When we bring leadership into the mix, we can accelerate the change in the world. Leaders are entrepreneur types with purpose and passion who can visualize a better world in the future and are able to convince or influence others to willingly join them on the journey because of their inspired vision.
Leadership is the stretch of changing things that can be changed, of providing new thinking, new energy, to the current situation. Leadership means making a difference, creating a positive change; providing the impetus that creates an atmosphere of change that improves the world.
My company expresses what I feel. Each of us has the potential to be whatever we desire, and the answers are within each of us. The company provides a loving supportive environment that encourages personal growth, fun and fulfillment of vision and purpose. I offer the opportunity to experience a deeply fulfilling career as an entrepreneur, one that not only rewards financially but personally, professionally, emotionally and spiritually.
Good leaders develop through a never ending process of self-study, education, training, and experience. Charlene Day offers educational programs that inspire, enrich and empower entrepreneurs and enhance leadership. I invite you to join us.
I appreciate getting feedback on my post. I enjoy hearing from you and if you would like to find out more about the next Focus Into Results program, I would love to discuss how we could transform your dreams…into reality, your goals…into achievements and your focusing into results
Here's to your success!
Charlene