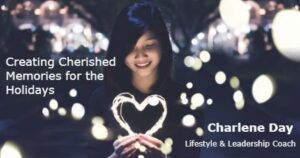 When we think of our past, we remember experiences, not things. So for the holidays, here are some ideas that will create experiences for your loved ones, creating some cherished memories.
Arrange a time to cook or bake together.
Play a board game or card game together.
Write down something that nobody else would know about you. Then put everyone's answers into a box. Someone will pick out the cards and read them out loud and everyone has to guess which person wrote it.
Take a lot of digital photos and then upload them to a family sharing site and send the link to everyone in attendance.
Ask everyone, what is their favourite holiday song, performed by what artist? Then go online and download them and you can listen to each person's requests.
On an index card write the answer to, What is so great about (each person there)? Then write on another card, My wish for (each person there) is….. Put the cards in a box and then read them out or give them to the person and they can read out the wishes for themselves.
Create some questions like, What was the most embarrassing thing that has ever happened to you? What was your favourite childhood memory?  Describe the best thing that happened to you in the last year. Think of questions that you would like to be aware of to get to know all the people around the table. Each person can answer and you can get to know each other better.
Create time coupons. Give your time, the most meaningful gift. Write out coupons for 3 hours of babysitting, a candlelight dinner, hugs, doing dishes, running errands, fixing or repairs, etc. Be creative with what experience you think that person would like.
Give together as a family. Find a cause that you want to give to and then ask everyone to contribute something to it. Volunteer at a local shelter together. Sponsor a needy family. Also, think about extending invitations to people who are alone for the holidays.
If you are really good a particular skill, offer it as a gift. Or if you know someone has a particular interest in learning a new skill, sign them up for a class and give that as a present.
Or arrange for a spa experience, or a massage, reflexology, reiki treatment for that person who is overwhelmed.
Be creative this year as experiences are the real deal when it comes to cherished memories.
Happy Holidays to you all.
Charlene
My Facebook Post
My real answer to: What do I want for Christmas? I want you. I want you to keep coming around, I want you to ask me questions, ask my advice, tell me your problems, ask for my opinion, ask for my help. I want you to come over and rant about your problems, (and your joys!!) – about life, whatever. Tell me about your job, your worries, your kids. I want you to continue sharing your life with me. Come over and laugh with me, or laugh at me, I don't care. Hearing you laugh is music to me. I want to see you happy and healthy. When you ask me what I want for Christmas, – you've already been giving me my gift all year. I want you.