[fusion_builder_container hundred_percent="no" equal_height_columns="no" menu_anchor="" hide_on_mobile="small-visibility,medium-visibility,large-visibility" class="" id="" background_color="" background_image="" background_position="center center" background_repeat="no-repeat" fade="no" background_parallax="none" parallax_speed="0.3″ video_mp4="" video_webm="" video_ogv="" video_url="" video_aspect_ratio="16:9″ video_loop="yes" video_mute="yes" overlay_color="" video_preview_image="" border_size="" border_color="" border_style="solid" padding_top="" padding_bottom="" padding_left="" padding_right=""][fusion_builder_row][fusion_builder_column type="1_1″ layout="1_1″ background_position="left top" background_color="" border_size="" border_color="" border_style="solid" border_position="all" spacing="yes" background_image="" background_repeat="no-repeat" padding="" margin_top="0px" margin_bottom="0px" class="" id="" animation_type="" animation_speed="0.3″ animation_direction="left" hide_on_mobile="small-visibility,medium-visibility,large-visibility" center_content="no" last="no" min_height="" hover_type="none" link=""][fusion_text]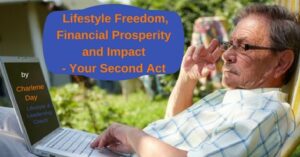 Lifestyle Freedom – For the past 15 years, Boomers (born between 1946-1964) have had a higher rate of entrepreneurial activity than any other demographic. Since 60 is the new 30, they have a lifetime of experience they want to share and they are not afraid of hard work. Many have worked "traditional" jobs and either have been let go or have left on their own accord. So now they are ready for their second act.
Now Boomers are looking for lifestyle freedom and work schedule freedom,  as time is seen as the most valuable resource at this point in their lives. For many, there is also a need for more financial prosperity as the pensions are not quite enough to live on.  They also want to make an impact.
Whether you are a boomer or not, you may need another paid part-time job at the same time as you start up what you are passionate about.  You're living the dream but you're paying the bills too.
With the internet now, you can run your business from your laptops from anywhere in the world. You just need a WordPress website, a Facebook presence – and it's free. You can also have a presence on Twitter, LinkedIn, Pinterest, or Tumblr.
There are so many advantages to being self-employed as an entrepreneur. One of the main ones is the tax advantages. You can write off a variety of expenses and lower your taxable income allowing you to actually keep more of what you earn.  You have the option of working out of your home office which means no more rush hours and additional gas expenses.
Here are some of the benefits:
Greater earning potential with no salary cap, no glass ceiling. You can earn what you are worth.
You could become rich. If it takes off, the person who's going to get all that profit is you.
Your income directly relates to your productivity.
You can create a built-in retirement income stream,  the potential for unlimited income.
A sense of control over your future.
Time flexibility. Setting your own hours, taking more vacation days. Enjoying the world in a way 9-5ers can't.
You get the freedom of being your own boss. No-one to tell you what to do. No need to ask permission.
You control how your work is done. You choose your own customers/clients.
Your work area is truly yours. You can buy new equipment when you want or need it.
You chose what to wear each day.
 You spend less money on expensive daily lunches.
 You don't have to go to nonproductive meetings. No more co-worker drama.
You do work that makes sense, something that you are passionate about.
Allows you to focus on providing a product or service you believe in and are good at.
You enjoy the variety of continually adapting, learning, and updating your skills while developing way more confidence.
 You can tap into your creativity and can be yourself, more fulfilled.
 You can create a legacy and make a difference.
Whether you are a Boomer or not, these benefits may be appealing to you. Now's your chance to explore the possibilities of your second act.  Book a complimentary strategy session at  http://charleneday.com/.
To your success,
Charlene
[/fusion_text][/fusion_builder_column][/fusion_builder_row][/fusion_builder_container]