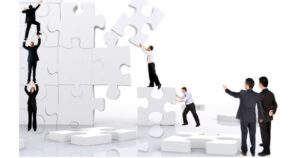 Are you looking for growth in your business? Are you an entrepreneur who is success oriented?  Are you seriously committed to your own growth? Do you like to collaborate with others? If you answered yes to these questions, then you might like to consider joining a MasterMind group.
When we study people like Henry Ford, John D. Rockefeller, Thomas Edison, Alexander Graham Bell, Bill Gates, Warren Buffet, Michael Dell, Oprah Winfrey and hundreds of other successful people in the world, we find there are "secrets to success" that have been used and proven for many years by these people.
One of these "secrets" to success is the MasterMind created by Napoleon Hill.   MasterMind groups are a group of two or more persons coming together where the thing they have in common is that they want to accomplish a goal, or deal with a challenge, or grow their business, or grow personally.
The MasterMind concept is based on an ancient idea that when two or more come together, they create a third invisible intangible force which is likened to the third mind in the MasterMind. The MasterMind group energy establishes a direct connection with that of a Higher Power or Universal Collective Mind.
The MasterMind provides an opportunity for each member to unleash and realize their own individual potential. Sometimes it is easier to recognize the potential in others than seeing it in ourselves. The principle also conveys that other like-minded individuals can believe in ideas you may find difficult to conceive or believe for yourself. These ideas will be held and accepted as true by your MasterMind partners until you can find it in yourself.
The group meets regularly in an atmosphere of trust and harmony for the purpose of providing mutual support and encouragement. The group is not to solve each other's problems but rather surrender such requests to the energy of the MasterMind.  Solutions occur in a most amazing way when this is done.
Being in a MasterMind group is like having your very own objective board of directors. You spend an hour a week with like-minded people and share ideas and connect to ideas that you might not have thought of before. A MasterMind partner will come to the group with an idea that could skyrocket your business, change your business, change your income, change your state in life, or change the course of your life. Thousands of people have demonstrated dramatic, positive changes in their lives, myself included, thanks to Masterminding.
If you are ready for a life-altering experience, if you are ready to begin the journey of a lifetime, if you are ready to discover the secret to your infinite potential, then raise the bar and join a MasterMind. I am hosting a series of MasterMind groups this spring. If you are interested in this awesome opportunity, please feel free to contact me for more information.
Dare to Dream!
Charlene
I appreciate getting feedback on my post. I enjoy hearing from you and if you would like to find out more about the next Focus Into Results program, I would love to discuss how we could transform your dreams…into reality, your goals…into achievements and your focusing into results