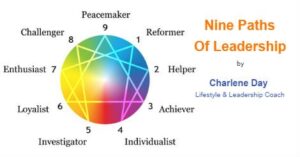 I just came back from a weekend workshop on the Enneagram. The word Enneagram comes from the Greek words ennea (nine) and grammos (a written symbol), and the nine-pointed Enneagram symbol represents nine distinct strategies for relating to the self, others and the world.  The Enneagram helps us to see our patterns of thinking, feeling and acting and our motivation or worldview.  When we "see" these personality patterns, this helps us with our personal development and is very helpful in connecting with others.
The weekend focused in on relationships and the Enneagram. Relationships can be with ourselves, with others or with a higher power. I am going to focus on business relationships for this blog and specifically the aspect of leadership.
Every leader has their own style and strategy. Further, their leadership styles and methods will vary because they are influenced by their personality patterns. The ones I will elaborate on are the nine Enneagram types. There is much written on the Enneagram so feel free to investigate as this will just scratch the surface.
The Nine Types of Leadership
A "type one" leader sets clear goals and inspires others to achieve the highest quality. This leader is authentic and accepts others as they are.
A "type two" leader assesses the strengths and weaknesses of team members and motivates and facilitates people towards the achievement of the overall goals. This leader will make meaningful connections for people to network with each other.
A "type three" leader creates environments that achieve results because people understand the overall goals and structure. This leader keeps the energy high and focuses on successful results.
A "type four" leader creates organizations or networks that give people meaning and purpose so that they are inspired to do excellent work. This leader will share their vulnerability and support people through difficulties, challenges, and changes.
A "type five" leader develops an effective organization or network through research, deliberation, and planning so that all systems fit together and people are working on a common mission. This leader will schedule brainstorming sessions to engage people to do business together.
A "type six" leader solves network or organizational challenges by developing a creative problem-solving environment in which everyone is involved and feels that they are part of the solution. This leader identifies shared goals and values and develops mutual respect.
A "type seven" leader gets people excited and creates new ventures so that the organization or network can take advantage of important business opportunities. This leader will plan fun and engaging events to do together.
A "type eight" leader moves the network or organization forward by leading decisively, placing capable and reliable people in the right positions, and empowering competent people to take action. This leader will let people know they have their back.
A "type nine" leader helps to achieve the collective mission by creating a clearly structured and harmonious work environment. This leader will go into relationships with an open mind, realistic expectations and doesn't rely on assumptions.
As you can see, there are many paths of leadership and you may resonate with some and not with others. We all have our strengths and gifts and bring our uniqueness into our leadership. If you would like to investigate this further, feel free to go to http://charleneday.com/enneagram-transformation-process/.
To your success.
Charlene