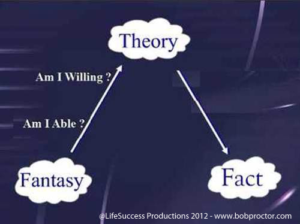 In the last blog post, I shared with you a process to find your top A-1 goal. Now that you know what you want, how do you manifest it so you can see it on the physical plane? Here is the 3 part creation process that allows that energy from your imagination to come into a physical fact. This is part 1 of the process and in the next blog post, I will share the more concrete steps to make your goal a reality.
First, consider that your goal at this point is just a fantasy, some thoughts in your conscious mind. You start by building this fantasy. Then you take the fantasy and move it from a fantasy to a theory. You must believe you are able and be willing to do what is required in order to turn the theory about your wants into a goal.
Now before the theory can become a goal, you must ask yourself two questions. The first question is, Am I able to do this? You have infinite potential so the answer to this first question must be an emphatic yes.
The second question is, Am I willing to do whatever is required to cause the image in my mind to manifest into physical form in my life? When your answer to that question is yes, your theory immediately becomes a goal or a fact, and when you turn your goal over to your subconscious mind, the laws of the universe kick in and the law of perpetual transmutation of energy takes over and your goal begins to move into physical form.
As you get emotionally involved with the goal, you're going to involve your emotions and the expression of that emotional involvement is going to change your behavior. With this behavioral change you begin to attract to you all those things required for the manifestation of your image.
As your behavior changes, the results start to change and your theory turns into a fact. So there are 3 stages of creation — fantasy, theory and fact (your goal).
If you truly have an A-1 goal, then this goal is something you have never done before and it may even be a bit scary to you, at the same time very exciting. It will help you grow. Because this goal is still in non-physical form, it is important not to let outside conditions or circumstances stop you. Refuse to listen to anyone who says it can't be done. Stay focused on your goal and how it going to make you feel once you attain it.
Stay tuned for the next steps in manifesting your A-1 goal into reality.
Dare to Dream!
Charlene
I appreciate getting feedback on my post. I enjoy hearing from you and if you would like to find out more about the next Focus Into Results program, I would love to discuss how we could transform your dreams…into reality, your goals…into achievements and your thinking…into results.