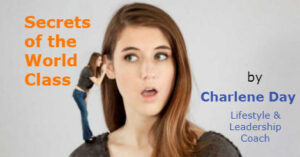 I recently saw an inspirational video about the Secrets of the World Class -Turning Mediocrity into Greatness based on a book by Steve Siebold. It basically asks you, how do you see yourself? Do you see yourself as middle class or world class. He was not referring to your bank account but how you approach the challenges you face and how you live your life.
Here are the secrets he came up with:
The Middle Class is frustrated
The World Class is grateful
Gratefulness changes your vibration to one that will keep you open to receive the good you deserve.
The Middle Class competes
The World Class creates
Creativity is essential as you need to use your creative facilities to create the life you desire.
The Middle Class avoids risk
The World Class manages risk
Managing risk and being up for challenges puts you in a place of expectation for better things.
The Middle Class loves to be comfortable
The World Class is comfortable being uncomfortable
When you go after a big goal it will scare you and excite you at the same time and you will feel uncomfortable for a while. This is essential for growth.
The Middle Class focuses on having
The World Class focuses on being
When you focus on learning and growing into the being you need to be in order to be successful, you will bypass the fixation of immediate gratification.
The Middle Class has pipedreams
The World Class has vision
Vision is essential to know where you are headed and to make your goals a reality.
The Middle Class is problem oriented
The World Class is solution oriented
You see options and keep your focus on the possibilities. You are always solving problems.
The Middle Class sees itself as a victim
The World Class sees itself as responsible
You take full responsibility for all your choices.
The Middle Class thinks it knows enough
The World Class is eager to learn
You are always learning the specific knowledge you need to succeed and are open to learn from your mistakes.
The Middle Class chooses fear
The World Class chooses growth
You are up for the challenges and follow your passion. You surround yourself with like minded people who are focusing on increase.
So these are the qualities to cultivate as you are working towards peak performance. Learning more about these secrets and applying them will lead you to greatness. If you need to strengthen any of these qualities, then ask about the Thinking Into Results program.
Here's to your success!
Charlene
I appreciate getting feedback on my post. I enjoy hearing from you and if you would like to find out more about the next Thinking Into Results program, I would love to discuss how we could transform your dreams…into reality, your goals…into achievements and your thinking…into results.