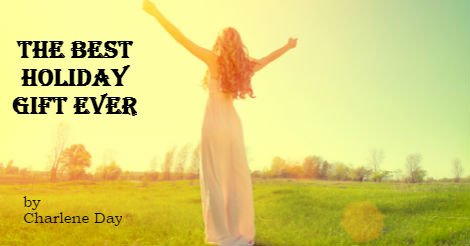 It's that time of the year again and many people are running around wondering what gift to buy for their loved ones. Well I have an idea that will be right for everyone on your list.  Yes, I mean everyone. You are wondering how is this possible, I'm sure? Well the gift I am talking about is the gift of gratitude.  It is a gift you can both give and receive at the same time.
If you are breathing right now, you have so much to be grateful for. If you have all your senses, you are able to experience so many sights, sounds, smells, tastes and feelings. Those without one or more of these senses are not able to experience what you are experiencing right now.  Think about all the wonderful people you love, can you imagine life without them? Think about how grateful you are that they share your life.  Let them know how grateful you are that they are in your life.
You can think of gratitude as a spiritual currency that magnetizes abundance to you. Gratitude is in harmony with abundance and is closely aligned with the Law of Attraction. Being thankful for what you already have, makes you realize just how wonderfully blessed you are.
The more grateful and consciously appreciative you are of what you have, can amplify blessings and abundance into your life. Being grateful for aspects of your life will also rouse the sense of great delight. More conscious people give thanks for what most people ordinarily take for granted. Those expressing appreciation of life are generally more willing to exercise, less depressed, and live life fully. When you're feeling grateful for what you currently have, rather than dwelling on what you don't yet have, you will deal much better with the little hiccups in life. When you feel gratitude, those negative feelings–anger, fear, despair, hatred, and so on–lessen and disappear. The positive will always dispel the negative. When you are grateful for what you already have, then the universe will manifest many more good things into your life.
Being in gratitude puts you closer to the Universal Intelligence or God energy. Living in gratitude is working in harmony with the other Laws of the Universe. Gratitude is very powerful. It will increase your faith and your happiness. It is a very high-energy positive vibration of thought, which acts like a magnet.
Every day I write in my gratitude journal, even if they are only "tiny" things. You might laugh, but I am so grateful every morning in my shower for hot water. I am ever so grateful for all that we have in this part of the world. I feel very blessed to live in Canada and have the luxuries that we have here.
In my latest book, The 30 Laws of Flow, I cover gratitude as one of the Universal Laws. In the book I suggest a 30 Day Plan and each day I recommend finding three things you are grateful for. The clever thing about this program is that when it is followed, it is a vibration changer, you will feel better. If you want to preview the program go to http://30lawsofflow.com/free-gift/.
The gift of the holidays: For this day, I am grateful and for all of you who share it with me.
Happy Holidays.
Love, Charlene